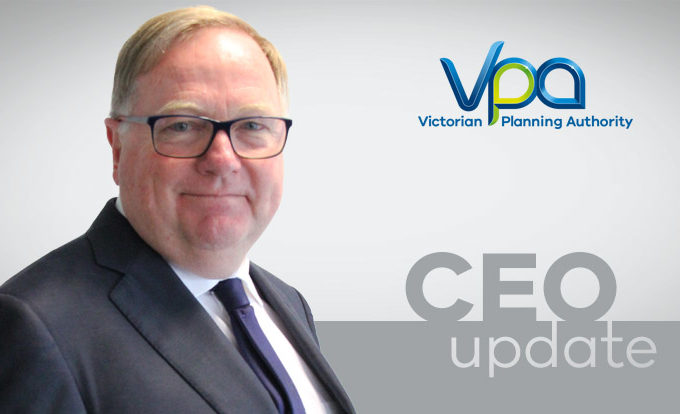 CEO update: 10 February 2017
Dear colleague,
Wollert PSP approved
I am pleased to announce that Minister for Planning, Richard Wynne, has approved the Wollert precinct structure plan.
To develop this plan, the VPA partnered closely with the City of Whittlesea.
This plan will paves the way for a vibrant new suburb in Melbourne's North. Wollert will cover an area of 1434 hectares and is bounded by Craigieburn Road to the south, Summerhill Road in the north, Curly Sedge Creek in the west and the reservation for the future E6 to the east.
Wollert will accommodate 15,000 dwellings and 42,000 people.
Its key features include:
a major town centre with integrated community facilities
job hubs that will be a base for 7000 workers
two local town centres
five schools complemented
several community facilities
extensive walking and cycling paths along conservation areas.
Development levies will total $408 million, which will be used by local and state governments pay for essential infrastructure and community facilities.
Roads to be built or duplicated include Craigieburn Road, Boundary Road, Summerhill Road, Andrew Road, Koukoura Drive, Edgars Road, Bodycoats Road.
The area will be largely defined by its 340 hectares of open space and its majestic red river gums, which flourish throughout. A network of dry stone walls and heritage buildings will provide future residents with a direct link to the area's local history.
In regards to public transport, the plan sets aside land for the future extension of the Epping Rail Corridor and a future train station in the heart of Wollert.
The community will be a 10-minute drive from the existing train stations of Epping and Craigieburn and future roads will be able to accommodate an extensive bus network.
Minister Wynne announced the plan at a meet and greet with homebuyers this morning. I attended the event and it was great to talk to the people who will soon be calling Wollert home.
Finally
Please call our office or me if you have any questions or suggestions on these or any other items, or reply accordingly if you no longer wish to receive these emails.