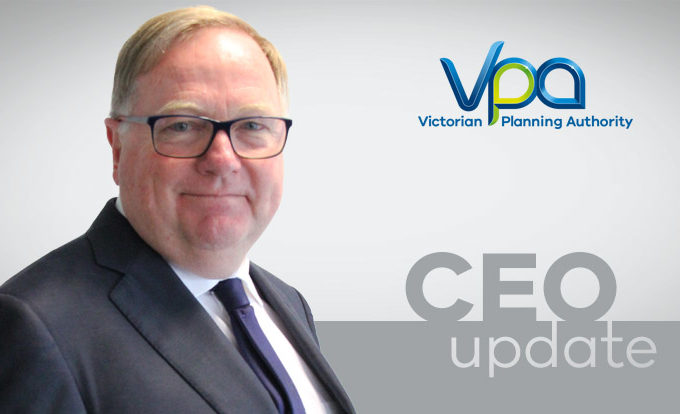 CEO update 15 November 2016
Dear colleague,
We are going full steam ahead in the lead-up to Christmas, trying to progress (sometimes painstakingly) as many projects as possible.
Beveridge Central PSP now on exhibition
The Beveridge Central PSP is now on exhibition.
You may be aware of the extensive media coverage surrounding the announcement of the State Government's restoration of Kelly House a few weeks ago. In case you missed it, Kelly House is the childhood home of Ned Kelly, Australia's most infamous bushranger (love him or hate him!).
Minister for Planning Richard Wynne and Member for Yan Yean, Danielle Green, recently announced the State Government was investing $1 million to restore the home, which will be opened to the public as a tourist attraction.
The precinct will ultimately be home to more than 10,000 people in the future, with the PSP paving the way for an additional 3500 dwellings to be built there.
The new suburb will take in 290 hectares of land generally bounded by Rankin Street to the south, Camerons Lane and the existing Beveridge Township to the north and north-east, Stewart Street to the east and Patterson Street to west.
Developers will contribute a total of $95 million to community infrastructure as the area develops. The plan includes three local convenience centres, a sports reserve with soccer ovals and tennis courts, and a special heritage trail around Kelly House Park. As usual you can see details on our website.
Major road upgrades for Melbourne's west
We were delighted to learn last week that the State Government is investing $1.8 billion in road upgrades to Melbourne's west.
The majority of these roadworks will take place in Wyndham, one of Australia's fastest growing municipalities and an area the VPA has developed several PSPs for.
Roads that will be upgraded include:
Point Cook — Dunnings Road and Palmers Road, from Point Cook Road to Princes Freeway
Truganina — Palmers Road, from Princes Freeway to Western Freeway
Tarneit — Derrimut Road, from Sayers Road to Dohertys Road
Truganina — Leakes Road, from Fitzgerald Road to Derrimut Road
Laverton North — Dohertys Road, from Fitzgerald Road to Grieve Parade
Truganina — Dohertys Road, from Foundation Road to Palmers Road
Hoppers Crossing — Princes Freeway/Forsyth Road interchange
Werribee/Werribee South — Duncans Road interchange
The package will transform the outer-western road network by boosting capacity and improving road pavement conditions with intersection upgrades, creating almost 30 kilometres of lane duplication, and road maintenance.
This is a vital investment that directly parallels our work in managing the growth of the west.
Moving closer to North East Link
Newspaper reports indicate the Victorian Government is having a close look at the potential for a North East Link and the possible route. From the VPA's point of view the North East Link would have a much-needed impact on the growth prospects of the La Trobe Employment Cluster, enabling greater unlocking of development. We will watch this discussion with interest.
Open space portal up and running
After extensive research and input from government agencies and councils, the VPA has created the Metropolitan Open Space Network Portal. The portal contains:
Interactive maps of Melbourne's open space network
Suggested open space hierarchy and category definitions
Suggested network planning and design principles
Information on how the walking catchment analysis works
A decision tree that outlines the steps used to categorise the GIS layers.
The portal also incorporates a range of interactive features and in particular includes a 400m walkable access layer for the entire metropolitan area which, as far as we know, is unprecedented.
It's a really handy source of information and good fun to spend some time on finding all the open space in areas of interest.
Our thanks goes to the 32 metropolitan councils, as well as those state agencies and authorities whose valuable data contributions have made this project possible. We also acknowledge previous work carried out by the Victorian Environmental Assessment Council, which has served as a strong foundation for the production of the open space data.
If you would like to discuss the information presented in the open space network portal please contact Paul Cassidy at paul.cassidy@vpa.vic.gov.au or the relevant sections of DELWP.
Greenfields Seminar
As the state's strategic planner, the VPA has an important role to play in ensuring a best-practice approach to planning is undertaken across all municipalities.
This is why we have established the Leading Practice Series, which consists of a number of seminars outlining the VPA's values and approaches to planning. On October 28 we hosted our inaugural seminar aimed at Council and industry practitioners, which detailed the strategic considerations underpinning our approach to designing new suburbs.
Minister for Planning, Richard Wynne, opened the seminar, and he took the opportunity to discuss Victoria's history of planning new suburbs, which previously left much to be desired.
Minister Wynne said that since the GAA's inception in 2006, planning outcomes in Melbourne's Greenfields had dramatically improved. He said much of this was a result of the VPA's PSP Guidelines, as well as the establishment of infrastructure levies charged to developers.
The VPA will be hosting further seminars in 2017, with details to be released in coming months focussing initially on urban renewal planning. To view a copy of all the slideshow presentations presented on the day, click here.
Sneydes Road Interchange completed
On October 28 I joined the Treasurer and Member for Werribee, Tim Pallas, to mark the completion of the $45 million, full-diamond Sneydes Road Interchange.
The interchange provides additional access to the Princes Freeway through new exit and entry ramps, significantly improving traffic flow around Point Cook and Werribee.
Melbourne-bound ramps were opened earlier this year, and on October 28 the Geelong-bound ramps were opened, marking the completion of the project.
This interchange will unlock access to an area known as the East Werribee Employment Precinct, which is currently in planning for an education and employment precinct.
Finally
Please call our office or me if you have any questions or suggestions on these or any other items, or reply accordingly if you no longer wish to receive these emails.