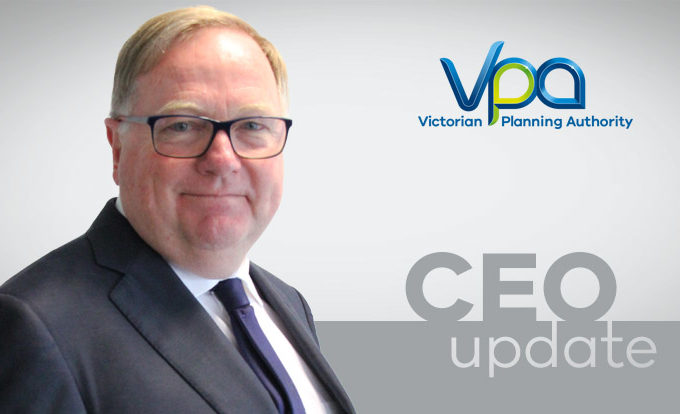 CEO Update 14 October 2016
Dear Colleague,
Our 2016/17 work program
 We are very pleased to be able to release our 2016/17 work program, as approved by our Minister. It is a heavy workload but manageable.
The program involves a spread of diverse projects across Greenfields, Urban Renewal and Regional areas and at times involves the VPA leading a project and at other times advising and assisting Councils. Regardless of our level of involvement, we always work closely with councils and other key stakeholders. The full list can be found here.
In our Urban Renewal Program we are carrying forward nine major projects, with seven new (generally smaller) projects and some areas still to be identified. Steve Dunn is the Lead Director for the overall Urban Renewal program, with Directors Emily Mottram and Emily Hillebrand managing various projects. Highlights include ongoing work on the Arden project, Broadmeadows Activity Centre and our work in the Monash, La Trobe and Sunshine National Employment Clusters.
The VPA is also assisting with a range of strategic sites across Melbourne that will adapted for new uses, such as creating a development contributions plan for Josephs Road in Footscray, assisting Council on the Don Smallgoods site in Altona North and preparing for change at the Clayton Business Park.
Our Regional Program has been expanded to reflect our move to the VPA and highlights include our work on a Framework Plan for Bacchus Marsh, assisting with Plan Bendigo and key projects in Wodonga and Shepparton.
Tim Peggie is our Lead Director for the Regional Program, with Regional Director Karoline Ware managing projects.
Our Greenfields Program continues to roll out. While a number of PSPs have been approved in the past year, next year will see the completion of a greater number of projects. Paul Byrne is the Lead Director for the overall Greenfields program, with Martina Johnson and Paul Cassidy both Directors and managing various projects. There are a number of new projects listed for commencement this year.
If you have any questions about any of these programs, please feel free to raise them with the various lead directors and directors.
Quarry Hills PSP approved
 The Minister for Planning, Richard Wynne, has approved a plan for a new suburb in Melbourne's north that will support a residential community of 6600.
The Quarry Hills Precinct Structure Plan applies to 285 hectares of land and is bounded by Lehmanns Road to the north, Quarry Hills Regional Park to the east, an existing transmission easement to the south and E6 Public Acquisition Overlay to the west.
The plan includes sites for 2358 dwellings, a village town centre, a sporting field, community facilities and land set aside for a government school.
Included in the PSP are plans for the Quarry Hills Regional Park, 180 hectares of parkland that will be available early on in the area's development. This will create a leafy new suburb resplendent with open space.
Local development infrastructure levies will raise $244,085.98 per net developable hectare, which will be used to pay for vital community infrastructure and services, such as roads, a sports reserve, kindergartens and pedestrian bridges.
Learn more here.
 Melbourne Greenfields have a record uptake
The VPA recently released our quarterly State of the State report, which provides a snapshot of key demographics and economics metrics across Victoria, including population growth, house prices and building approvals.
The report brings together publicly available research from the ABS (and other sources) and we are also very grateful to Charter Keck Cramer for allowing us access to some of their analysis.
The report reveals what many of our stakeholders know – our Greenfield areas are immensely popular for homebuyers, with 22,000 residential lots selling in the past four quarters. This is a record and the strongest market in Australia.
In the year to June 2016, the median price for a Melbourne Greenfield lot was $221,730, which is cheaper (and better planned) than all Australian capitals except for Adelaide. Comparative prices in Sydney are more than double the Melbourne median, at $460,375. This provides a huge competitive advantage to Victoria and results in real savings for prospective homebuyers.
Both affordability and the quality of development are driving these record sales. For the past 10 years, the VPA has been designing terrific new suburbs that have plentiful open space, well-connected streets and lively amenity.
To view the full report, click here.
Streamlining for Growth program
The Minister for Planning, Richard Wynne, recently wrote to all councils about the VPA's new Streamlining for Growth program. That supports our increased program in regional areas and strategic sites across Melbourne.
To support this new focus, the Government has funded an additional $2.1 million to establish a specialist regional unit to support councils in key projects, and a further $2 million to streamline sub-division processes and unlock strategic development sites for housing and jobs in metropolitan Melbourne.
A few examples of strategic redevelopment sites we will be focusing on include the Clayton Business Park; and the former industrial school/ asylum/ tertiary education facility in Sunbury now owned by Victoria University and known as Caloola.
To be eligible for assistance, Streamlining for Growth projects will need to demonstrate the potential to deliver significant time and cost savings to the planning system. They should also be capable of delivery within the current financial year.
For further information about the program and project selection criteria, please contact the relevant VPA Director, or Robert Davies, Strategic Planning Manager, by telephoning 9651 9600 or by emailing robert.davies@vpa.vic.gov.au.
Arden consultation provides valuable feedback
The VPA hosted two public engagement forums last week for the Draft Arden Vision & Framework.
At a business breakfast on Wednesday, October 4, and a community forum on October 5, North Melbourne residents and workers provided the VPA with feedback on its key proposals for Arden.
Minister for Planning, Richard Wynne, was also present at the community forum, where he outlined the vision for Arden and took questions from the floor.
This initial consultation revealed that creating new open space, prioritising walking and cycling and designing the precinct with the principles of sustainability are of the utmost importance to North Melbourne residents.
Attendees were also keen for the area to have a wide range of cultural and community facilities, such as schools, medical centres and cinemas.
The VPA will now use this feedback to inform the Framework Plan for Arden, due to be released in coming months.
Driverless cars
One of the really big changes we are only starting to address in our planning is new forms of transport and driverless cars. A new report from Australia's peak driverless vehicle organisation, ADVI, authored by VPA board member Brian Haratsis, argues a coordinated national framework is needed to mitigate the risks of rapid uncontrolled autonomous vehicle adoption from 2020.
Download the report here.
 Finally
Please call our office or me if you have any questions or suggestions on these or any other items, or reply accordingly if you no longer wish to receive these emails.
Regards,
Peter