Amendment C88 to the Hobsons Bay Planning Scheme
The Altona North Precinct is 67 hectares in size and is generally bounded by Blackshaws Road, Kyle Road, New Street and the West Gate Freeway in Altona North and South Kingsville.
The VPA has worked closely with Hobsons Bay City Council and landowners to develop a Comprehensive Development Plan and Development Contributions Plan to facilitate the redevelopment of the precinct.  The precinct will transition from existing industrial uses to a residential mixed-use neighbourhood and ultimately is anticipated to include:
3,000 homes (townhouses and apartments), with a commitment to 5% affordable housing.
A network of tree-lined streets and laneways
A new town centre on Blackshaws Road shops, a supermarket and civic space
Commercial office space providing local employment opportunities
A large central park and four local parks
Extensive cycle paths, including a connection to Federation trail
Bus route to Newport and Spotswood train stations
Click the link below for a full set of amendment documentation:
Amendment C088 to the Hobsons Bay Planning Scheme
Any document presented at Planning Panels Victoria, including expert evidence statements, can also be viewed here.
Background Information
Project Information
Future Changes
Next Steps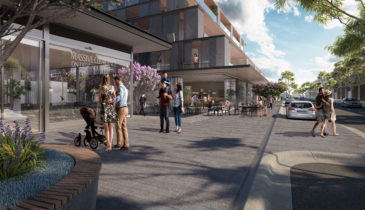 The Victorian Government is giving the Altona community a chance to help transform a former industrial […]